News
This page will from now on keep you up to date on all the latest from Tom Burlinson. You can also find me on Facebook.
August, 2021
After my last post everything changed, of course, due to the spread of Covid 19. The pandemic has had an enormous impact on the Entertainment industry. After the performance of 'Swingin' the Great Standards' in Perth most of my bookings were cancelled or postponed. I was fortunate to be able to eventually arrange to do two performances of that show in Adelaide in November, 2020 at Her Majesty's Theatre albeit with limitations of audience numbers.
In 2021 bookings for my live music shows have continued to be difficult to manage. I've played some smaller venues close to home as they have become available, but have been reluctant to make bookings for tours or major interstate venues as sudden border closures due to the virus can upset plans at very short notice. Travel, accomodation and advertising costs as well as theatre rental deposits and availability of musicians can all be affected.
I did create a new show though! It includes all the songs I sang on the 'Swing That Music' CD plus lots more. I've kept the title and the collaboration with Ed Wilson who wrote all the arrangements on the album as well as playing the trombone. Here is the promotional material:
Acclaimed award-winning entertainer Tom Burlinson stars in a brand-new show –'Swing That Music', accompanied by his Great Big Band.
Songs included are Academy Award winners, Broadway classics, Jazz standards and modern Pop treasures. Thrilling arrangements by Ed Wilson and other greats.
Tom's Great Big Band contains some of the premier Jazz musicians in the country.
Don't miss the chance to experience this fine showman renowned for his style and skill in an unforgettable evening of musical excellence.
The show had its premiere to a sold-out audience at The Art House Wyong in June.
A week later Sydney was locked down, followed by restrictions in all of NSW.
Shows planned for July were postponed until August, then September and now into October.

At the time of writing NSW is in indefinite lockdown and it is uncertain whether shows booked in October will be able to be performed. When I know more I will update this Page.

February, 2020
Here is a link for tickets to my latest music show 'Swingin' the Great Standards' at Palms at Crown, Melbourne on March 6th:
Find ticketsThe Palms at Crown Melbourne – Southbank , VICTom BurlinsonMar 06 7:30 pm
and at Crown Theatre Perth on March 13th:
Find ticketsCrown Theatre Perth – Burswood, WATom BurlinsonMar 13 7:30 pm
After performing Tom Burlinson's Great American Songbook in May last year I changed the title of the show, cut some songs and added others and edited the spoken monologue. Changes all for the better I think! Here is a description of the show in its new form:
Favourite Australian entertainer Tom Burlinson has a brand new show performing some of the most memorable songs from the greatest composers and lyricists of the 20th Century, accompanied by one of the best big band orchestras in the business. In Swingin' The Great Standards Tom has selected material from Irving Berlin, Jerome Kern, George Gershwin, Richard Rodgers, Harold Arlen, Cole Porter and other fine songwriters, and with all of his trademark charm and humour will entertain audiences with stories and insights into the lives and careers of these amazingly talented men and their timeless songs.
With words and music that evoke passionate memories from the lifetimes of so many people, Tom will perform much-loved classics such as Stormy Weather and Something's Gotta Give and classics from Broadway, Tin Pan Alley and the silver screen like As Time Goes By and Cheek to Cheek. Other songs include The Way You Look Tonight, Love is Here to Stay, The Song is You, Night and Day, and Where or When to name just a few. Many of these were recorded by greats such as Frank Sinatra and Ella Fitzgerald as well as more modern stars like Diana Krall and Michael Buble.
August, 2019
In June I was thrilled to be offered the role of Billy Flynn for the Sydney and Brisbane seasons of the classic musical 'Chicago'. Rehearsals began with the creative team from the U. S. in mid-July and the first public performance was on August 20th at the fabulous Capitol Theatre, Sydney.
I'm very much enjoying working with Natalie Bassingthwaighte as Roxie, Alinta Chidzey as Velma, Casey Donovan as Mama Morton, Rodney Dobson as Amos and a fine Ensemble of muti-talented singer/dancer/actors.
The season in Sydney runs until October 20th, then the show moves to Brisbane for a five week run.
That will be the end of my engagement as when I was first contacted Jason Donovan was already contracted to play Billy for the Melbourne season in December.
May, 2019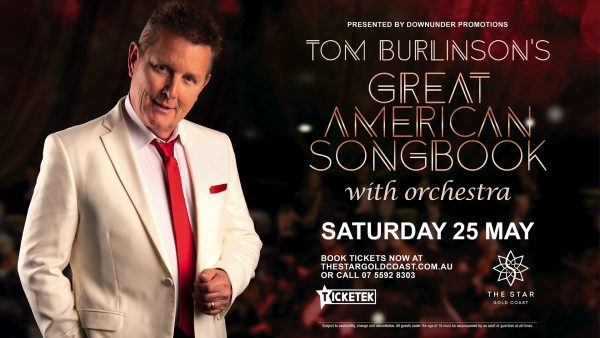 March, 2019
I know, it's been a while since I updated this site.
The World Premiere of 'Swing That Music' was a great success. A wonderful atmosphere was created in The State Theatre, Sydney by The Sydney All Star Big Band, Ed Wilson, Emma Pask and me. The reaction was simply sensational.

The show was also performed in the Concert Hall at QPAC in Brisbane on February 8, 2019 to a large and most appreciative audience.
November, 2017
The three shows of 'Young at Heart' with Melinda Schneider in Sydney, Melbourne and Brisbane in June were very well attended and the reaction to them was very positive. There is a possibility we will do more in the future.
The recording of the CD 'Swing That Music' led to mixing and mastering and all involved were extremely happy with the results.
I have been inspired to produce a live show based on the content and participants in the CD recording and have secured The State Theatre in Sydney for the World Premiere on April 21st, 2018. The show is on sale and the commencement of advertising and publicity is imminent.

February, 2017
A busy second half of last year, including performances of 'Sinatra at the Sands' at major venues such as the Riverside Theatre in Parramatta, Jupiters Casino on the Gold Coast and in New Zealand for the first time in Auckland's Sky City Casino, as well as more cruises on the Celebrity line. More on the Crystal, Princess and Royal Caribbean lines early this year.
Looking forward to working with Melinda Schneider on a new show 'Young at Heart', celebrating the music of Frank Sinatra and Doris Day, which we'll be performing at the Sydney Opera House, Hamer Hall in Melbourne and the Concert Hall at QPAC in June with a 20-piece orchestra.
Also working on a new jazz album of standards called 'Swing That Music' with arrangements by Ed Wilson, vocals by me and Emma Pask accompanied by the Sydney All Star Big Band. Recording next month.Will probably lead to some live gigs doing this material.
In my 41st year in show business and still going!
June, 2016
I performed 'Sinatra at the Sands' in the Adelaide Cabaret Festival, playing to more than 3000 people over two shows in the Festival Theatre. The audiences were very responsive and the big band of local musicians who joined my touring drummer Andy Davies and long-time band leader and trumpeter Ralph Pyl did a terrific job. Here are some selected quotes from reviewer Patrick Moore writing for web site 'Glam Adelaide':
"Burlinson… conjures a fine evening of classic hits and memories.
"One word sums it up perfectly – class. The entire show oozed it."
"Burlinson sang just as superbly (as Sinatra) with a stunning vocal range giving the songs new life and depth."
"…everyone gave him a standing ovation at the end, screaming for more."
"Sinatra at the Sands was a class act from start to finish, consistently entertaining its audience until the final and well-deserved bow."
Rating out of 5: 5
February, 2016
Last year a new development occurred for me – the opportunity to gain employment as a Guest Entertainer on a number of cruise ships. This is a growing industry in Australia.
My first cruise was in April last year on the Royal Caribbean ship 'Radiance of the Seas' from Wellington, New Zealand to Papeete, Tahiti. Since then I have entertained on Princess Cruises' 'Sapphire Princess' from Bangkok, Thailand to Singapore in November 2015; on 'Voyager of the Seas' (RC) from Dunedin, New Zealand to Sydney in January this year; on the 'Sapphire Princess' again from Singapore to Ho Chi Minh City, Vietnam also in January, and this month on the 'Pacific Princess' from Darwin to Kota Kinabalu, Malaysia. Next month I will be back on the 'Radiance of the Seas' from Dunedin to Melbourne.
On these cruises I performed selections from 'Now We're Swinging'!' and 'Simply Sinatra'. Usually Guest Entertainers are required to perform two 45 minute shows on one night. Occasionally another different show is requested. So far, my shows have been very well received by the passengers on board the various ships.
I have more bookings in March and April on 'Voyager of the Seas' and on the 'Celebrity Solstice' in November and December.
2016
This year Tom celebrates 40 years as a show business professional.
June, 2015
I performed the 'Sinatra at the Sands' show in the Concert Hall at the Queensland Performing Arts Centre in Brisbane. Here is a review from www.absolutetheatre.com.au
Review – Burlinson swings Sinatra
June 13, 2015
By Eric Scott
What a joy it was to see and hear the dinner-suited Tom Burlinson belting out the Sinatra hits in front of an equally sartorial 16-piece big band. That man is class with a capital "C".
It was a one night stand in Brisbane, part of the Cabaret Festival, and his fans turned out in droves to fill the Concert Hall for his performance. We saw nearly two hours of unmitigated nostalgia, wonderful singing of wonderful songs and, for a big band enthusiast like myself, it was amazing to hear the musical arrangements of Quincy Jones for the Count Basie Orchestra back in the 1960s, Billy May and Nelson Riddle played so faithfully that it was simple to hear the change in style.
It's not well known, but back in the 1970s Tom did a one-off Sinatra show and declared that he wasn't going to get type-cast as a Sinatra tribute singer. He of course moved on to be a popular movie star in the classic Australian movies The Man from Snowy River and Phar Lap, as well as his heaps of TV appearances over the years.
But in 1991 his life was to change. Tina Sinatra picked Tom to sing the voice of her father in the Golden Globe Award-winning miniseries Sinatra. This led to a whole new musical development in his career.
He created his own show Frank- A Life in Song, which became hugely successful all around Australia, and Canada before entrepreneur Steve Wynn invited Tom to perform at his Wynn Las Vegas resort in 2007.
So singing took over and after that came Now We're Swingin', when Tom paid tribute not only to Sinatra, but also Nat 'King' Cole, Dean Martin, Tony Bennett, Sammy Davis Jnr, and Bobby Darin as well as Harry Connick Jnr and Michael Buble. He also toured around the country with a smaller musical ensemble performing Simply Sinatra.
And finally he created this great show.
The first half is based on the 1966 album which was recorded live at the Sands Hotel in Las Vegas and is often referred to as his best. For me though, the best is Songs for Swinging Lovers, his Nelson Riddle orchestrated comeback album in the 1950s. Burlinson sang a couple from that too.
I just loved every minute of the show as he belted his way through hits like Come Fly with Me, I've Got You Under My Skin, One for my Baby, You Make Me Feel So Young, Fly Me to the Moon, It was a Very Good Year, My Kind of Town and even a quaint sounding version of Get Me to the Church on Time from My Fair Lady.
After the interval he moved onto Sinatra's classic hits including his opening number New York, New York plus The Lady is a Tramp, Strangers in the Night among others and ending the concert of course with My Way. His encore was That's Life. I ask you what more could you ask for?
Why is Burlinson so popular? It's because he is not just a tribute singer. He is s singer with a stunning voice in his own right. There are not a great many successful Sinatra copy cats because few singers have the highly underestimated range of Sinatra's voice, especially when he saved his career by becoming a swinging singer rather than a dreamy crooner. Even Frank Sinatra Junior was not a wild success when he stepped into his father's shoes. I saw him. He sounded like Frank senior, but the pizzazz was missing.
Now that is what Tom Burlinson has on stage in spades. He sparkles and adds his own vibrant personality to perfect Sinatra phrasing and style. He works with the orchestra the way Sinatra did, so audiences get the best of both worlds.
He chats as Burlinson, tells a few anecdotes from his tour, occasionally uses a genuine Sinatra intro to a song or two. But the main point is that he is a true entertainer.
One night was not enough for his fans I'm sure – and judging by the long line-up to get his CD autographed after the show, he will be welcome back any time!
All we need now is someone to channel Ella Fitzgerald – can you imagine what sort of concert that would be!
March, 2015
I am once again delighted to announce that at the 17th Annual Australian Club Entertainment Awards Night held on Wednesday 18th March at Blacktown Workers Club I won the awards for Male Vocal Performer 2014 and the most prestigious Club Performer of the Year 2014.
I was, of course, honoured and grateful to receive these awards from industry professionals.
I recently performed 'Simply Sinatra' in Bairnsdale, Victoria. Here are some post-show audience comments:
Forge Theatre and Arts Hub
Question: What do you remember about this show and why?
Wonderful show – please come back sometime.
The professional and marvellous entertainment of this talented man. So great to be here to enjoy.
Fabulous, so, so professional.
Great show, hope Tom keeps Bairnsdale on his itinerary.
Wonderful band – fabulous timing from Tom and the band. Great showmanship, strong singing and professional performance.
Great Entertainer!!! Great show!!!
The whole show was great. Really enjoyed it.
Yes, the memories. I did it my way.
A wonderful performance. The expressions on Tom's face as he sings make the songs so much more appreciated.
Really enjoyed it. Great band, wonderful singer.
Liked the story of Sinatra and loved the singing.
Would love a next time.
It was wonderful, an ultimate professional performances. I closed my eyes and truly believed it was Sinatra. Excellent.
Luv ya shoes.
Thank you so much for coming to Bairnsdale. Such a professional showman.
It should have been a full house for such a classy performance. Glad they are prepared to come to Bairnsdale.
"I did it my way". "New York, New York". He wiggles his fanny so well.
All of it.
Have not seen the show in years – 6 or 7. As good as ever. Loved it.
Tom is a wonderful entertainer.
Wonderful show, band great, Finale excellent!!
Excellent trip down memory lane. Great talent.
This year marks the 100th anniversary of the birth of the great Frank Sinatra. To help celebrate I've created a brand new show!
Yes, Sinatra's first official live album recorded at The Sands Hotel, Las Vegas in 1966 with Count Basie and his Orchestra, arranged and conducted by Quincy Jones. One of the greatest.
It's taken me some time to collect all of the arrangements of the songs on this album and now I'm also assembling the big band again to try to just touch the brilliance of the original event. We are playing major venues around the country throughout the year.
Check out the Now We're Swingin'! drop down menu for dates and places.
March, 2014
Wow! What a month! From a performance of 'Now We're Swingin'!' in Warrnambool in south western Victoria to a tour of four shows in the north of Western Australia with a five piece band performing 'Simply Sinatra', then 'The Best of Tom Burlinson' with the usual eight piece band at Dee Why in Sydney. Next off on a tour of seven South Australian provincial towns with a different five piece band again doing 'Simply Sinatra', interspersed with two special concerts at Hamer Hall at the Victorian Arts Centre, Melbourne performing selected songs from 'Now We're Swingin'!' with the eight piece Melbourne musicians!
The photograph below is me with the specially decorated Toyota Camry which was provided very kindly by Murray Bridge Toyota for our use during the South Australian tour. Pretty cool, hey? Very much appreciated by Dale Genner the tour manager, Ralph Pyl the trumpeter and band leader who travels everywhere with me and who books the various bands, and, of course, by me!
Also during the month I was honoured to once again win the award for Male Vocal Performer at the Australian Club Entertainment (ACE) Awards held at The Juniors Club in Sydney.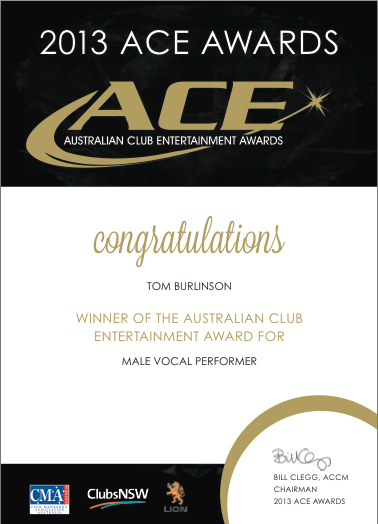 November, 2013
I was very pleased to audition for and be given a guest role in the second series of 'The Dr. Blake Mysteries'. It was a pleasure to work on this production and I particularly appreciated the warm welcome and support from the leading actors in the show, Craig McLachlan and Nadine Garner. The second series will be screened on the ABC TV Network early in 2014.
August, 2013
I made an appearance on 'The Morning Show' on the Seven Network. They put together a short retrospective of my career which was played prior to an interview with me. Here is the YouTube link if you'd like to see it:
http://www.youtube.com/watch?v=GODObocKKcY&feature=em-upload_owner
Here is a review of the performance of 'Frank – A Life in Song' at the Capitol Theatre, Tamworth NSW on July 27th. It was written by a very experienced musician and former big band leader named John Muller.
A big thank you and congratulations to Tamworth Regional Conservatorium of Music in association with Capitol theatre manager Peter Ross for bringing Tom Burlinson back to Tamworth for his new cabaret show FRANK- A LIFE IN SONG.
Tom Burlinson is a world class entertainer who has devoted much of his life to performing the songs of his idol Frank Sinatra all over the world.The capacity crowd were treated to a selection of 30 uptempo and easy swing ballads including
"Come fly with me","I've got you under my skin","Mack the knife",and "That's life" etc.
Tom has completely mastered Frank's unique phrasing of all his songs,his mannerisms,and patter between songs which had all the audience enthralled throughout his 2 hour concert.Being the consummate professional he had only the top arrangers in the business write his charts specially for the star studded 8 piece orchestra with the big band sound.
The band which comprised some of the cream of aussie musicians blended ideally with the Capitol Theatre's renowned sound system to produce the feeling and sound of a full 18 piece big band.
You could close your eyes and swear Frank was in the room when Tom closed with his rendition of the classic 'My Way" which had the crowd yelling and shouting for more.When he returned for an encore to sing "New York,New York" there was sustained applause and cheering from all the audience.
Tom,it is 2 years since you last performed in Tamworth.Please come back soon.
Many people I spoke to said they would be only too happy to go back inside now and watch it all over again.
June, 2013
Four sell-out shows of 'Now We're Swingin'!' were performed at the Adelaide Cabaret Festival.
Here are some selected quotes from internet and newspaper reviews:
"Burlinson truly shines…flawlessly performing standards from the Great American Song Book"
"Technically impeccable…always interesting and informative"
"Great musical style…tight, bright and brassy…genuine passion"
"High vocal quality and an exceptionally tight eight piece band"
"All of the songs are classics. It's a pleasure to sit back, close your eyes and be transported through the musical history of Swing"
May, 2013
I'll be performing 'Frank – A Life in Song' again at some of the larger clubs and various regional centres over the next few months, accompanied by an 8 piece band. We stayed mostly in the state capital cities with the show originally, but now we're taking it to other places we never went before. I'm still performing 'Now We're Swingin'!' as well, so to save confusion I've listed the dates for 'Frank' in the 'Now We're Swingin'!' section, but with the title highlighted in red. Please check out the dates and places if you're interested!
Feb, 2013
On Saturday 23rd we had to postpone our gigs at Coffs Harbour and Southwest Rocks due to the floods in the area. The band and I travelled by bus as far as Buladelah where we learned that the roads leading to Coffs Harbour had been closed and Southwest Rocks had been evacuated. After phone calls between my manager, Dale Genner, representatives of the venues and myself it was decided to postpone the dates. New dates will be finalised soon!
I have a few bits of news to report. Firstly there are a couple of exciting up coming special events. Late last year I performed a new show at Twin Towns on the Gold Coast called 'The Best of Tom Burlinson'. I had already had two previous engagements of 'Now We're Swingin'!' there, and wanted to do something a bit different. The new show contained some of the great Sinatra numbers from 'Frank- A Life in Song', some of the most popular songs from 'Now We're Swingin'!', as well as several songs new to my repertoire. These are a bit different to what some people might expect from me – more modern songs, still with jazzy backings, each one having a special significance in my life. There are also new stories relating to the new material. I'll be performing this show for the first time in Sydney at the Hurstville Theatre on Friday 15th March.
The following night Saturday 16th I'm very much looking forward to re-creating the classic 1966 album'Frank Sinatra Live at the Sands' as part of the Twilight at Taronga No. 1 Albums series with the Sydney All Star Big Band. The original of this, with the fabulous Count Basie orchestra, and so many classic Sinatra numbers, is one of my very favourite albums. Should be a special night!
I have been nominated again in the same two categories at the ACE Awards to be held at The Juniors Club on March 20th. I am, of course, honoured to be nominated again, and look forward to a great night there. I'll also be presenting an award.
And finally, the third 'Man from Snowy River Ride' was completed early this month. A very enjoyable and successful few days with the Lovicks and their staff and guests from the U.S.A. and around Australia. Journalist Paul Marshall and a camera and sound crew joined us for some of the time and filed a special report for Weekend Sunrise on the Seven TV Network which aired on February 2nd.
Mar, 2012
I'm thrilled to announce that at the 14th annual Australian Club Entertainment (ACE) Awards held at Souths Juniors on Wednesday 21st March I won the award for Male Vocal Performer 2011 and also the prestigious award of Most Outstanding Club Performer of the Year 2011. Needless to say I was delighted and honoured to accept these awards, especially because I have never before won an award for my work in the profession over the past 35 years! I also sang 'That's Life' on the night.
Jan, 2012
A year after the first 'Man from Snowy River Ride' with the Lovick Family, the second has been completed. A five day ride hosted by me and Charlie and Glenda Lovick through the glorious Victorian high country with about 15 paying guests and several staff. We visited many locations that were used in the films including Craig's Hut, Mt. Stirling, King Billy and Mt. Magdala. The weather was perfect and by all accounts a very memorable and enjoyable time was had by our Canadian and American guests as well as our Aussie friends.
We were joined by Grant Denyer and a small crew from the Channel 7 'Sunrise' show for three consecutive mornings. We did several 'crosses' back to the studio during the weather spots from various locations doing different activities, including riding while being filmed from a helicopter circling overhead, and me reciting a verse from the poem 'The Man from Snowy River' and double-cracking a stock whip! It was great to be back in this beautiful country with my life-long friends, the Lovicks, and several new ones!
I've also been invited to participate in the 1st Annual 'Slide' Cabaret Festival at Darlinghust in Sydney. I'll be appearing on Thursday 16th February with a six piece band. Looking forward to performing in a more intimate setting than is usual. For more information go to the 'Now We're Swingin'!' drop-down menu.
Nov, 2011
I've been asked to perform again as part of the Twilight at Taronga weekend concert series in 2012.
I'm sure it's going to be exciting to return to the venue where 'Frank-A Life in Song' had its first incarnation in 1998.
I'll be accompanied once more by the fabulous SYDNEY ALL STAR BIG BAND. The dates are February 17 and 18. For more information go to the 'Now We're Swingin'!' drop down menu.
Oct, 2011
| | |
| --- | --- |
| I'm delighted to announce that I am now officially endorsed as a singer/performer by Bosch Communications Systems, who have provided me with a chrome Electro-Voice REV-H hand-held concert microphone for my exclusive use. This came about after a sound engineer at one of my 'Now We're Swingin'!' gigs had one of those microphones for me to use. I really liked the look of the mic and thought it would fit with the 'feel' of the show. The engineer told me it was also of exceptional quality, and in performance I was very impressed with the sound quality produced. We discussed the possibility of a sponsorship deal with Bosch, and this was soon achieved. I now take my own EV microphone and receiver to my gigs and am proud to use it. | |
| | At Bosch Head Office with my new Electro-Voice microphone. |
Oct 13, 2011
I attended the Sydney Premiere of 'The Cup', with most of the other actors and Director Simon Wincer, and Producers Jan Bladier and David Lee. The film was received most enthusiastically by the audience, but had mixed reviews from the critics.
However, I was mentioned personally by the highly-respected movie reviewer David Stratton both on 'At the Movies' (ABC TV) and in the Weekend Australian. He wrote: "Burlinson gives the movie's best performance as Dave Phillips…"
Another esteemed critic Sandra Hall wrote in her review in The Age (Melbourne): "But it's the Man from Snowy River – Tom Burlinson – who gives the film's most likeable performance…" For more on 'The Cup' go to Film Overview -1991 Onwards in the Career drop down menu.
2011
I've worked most weekends throughout the year performing 'Now We're Swingin'!' at clubs and regional theatres around the country. Please click on the 'Now We're Swingin'!' drop down menu for information and a list of dates.
Feb 28, 2011
Appeared with Kate Ceberano on 'This Is Your Life' (Nine Network) in honour of Deborra Lee Furness. Sang 'All the Way' as a duet.
Mid 2010
I created a new musical show called 'Now We're Swingin'!'. Decided to take it into the club scene and established a new working relationship with Dale Genner of Downunder Promotions. He is now booking the show. First performance at Twin Towns on the Gold Coast, followed by lots more mostly in Sydney.
Auditioned for my old friend and associate Simon Wincer (Executive Producer of 'The Man from Snowy River'and Director of 'Phar Lap') for the role of Dave Phillips in his production of the new Australian film 'The Cup'. Was delighted to be cast and participated in the shooting in and around Melbourne during June and July. Based on the true story of the events leading up to the jockey Damien Oliver winning the Melbourne Cup on a horse named Media Puzzle in 2002, only a week after his brother was killed in a horse racing accident. A very moving story which I'm sure will become another highly acclaimed Australian film. A lovely supporting role for me-Dave is an Irishman and right-hand man to the famous Trainer Dermot Weld, played by Brendan Gleeson.